At Miller Orthodontics, we are proud to offer a variety of treatment options to suit the needs of our patients:
Invisalign
Traditional Braces
Aesthetic Braces
Lingual Braces
In-Ovation C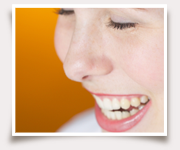 Having a confident smile can change everything, and Invisalign makes the decision easy. You can get a stunning smile without most people even noticing you are undergoing treatment. Start on the right track today, and find out more about Invisalign.
For those patients who would prefer a cost-effective, time-tested orthodontic solution, Dr. Miller is happy to offer standard metal brackets with a wide variety of band colors from which to choose.
This treatment utilizes clear brackets to minimize the appearance of the ongoing orthodontic procedure, while still allowing patients the benefits of traditional braces.
These special braces are worn on the inside of the teeth, to completely mask treatment.
This unique system provides faster results with fewer appointments and less treatment time. Ask our staff if In-Ovation C is suited for your case.